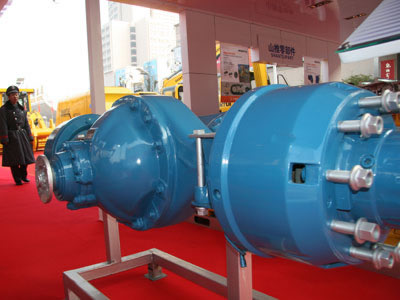 Shannxi HanDe Axle Co., Ltd was classified as high-tech enterprise, consisting of two plants in Xian and Baoji for 200,000 square meters workshop space. It is integrated with R & D, manufacturing and marketing system in large scale and considered as the most scientific technical enterprise as well as the key manufacturing base for China heavy-duty axles. A number of series axle assemblies in HanDe brand have served for China military heavy duty off-road vehicles and many famous China heavy-duty commercial vehicles in batches.
At present, HanDe Axle has 5 categories and over 100 different designs covering heavy and medium truck axles, off-road axles, bus axles, tag axles, etc. The typical product includes 5.5T-13T steering front axle, 13T-25T hub reduction axle, 10T-13T single reduction axle, 5T-9T steering driving front axle, 10T-16T tag axle, in which the hub reduction axle and single reduction axle is in the leading position in China domestic market relying on its unique technical advantage, super transmission torque and excellent loading capability.
With high-quality products and effective management, Hande Axle realized a compounded growth rate of 55% for seven years. Now it has become a leading exporter in the Chinese heavy-duty axle market, taking 35% market share of driving axles above 13 tons. Heavy duty truck axles have turned into a major component of the Golden section of heavy duty truck industry value chain developed by WEICHAI Group.
HanDe Axle has achieved widely application and high customer reputation in commercial vehicle and construction machinery field. HanDe truck axles are exported to more than ten countries and regions, covering Europe, North America, Asia, CIS, etc.